2 Garmin Alpha 100 Combo Packs with TT15 Collar GPS Dog Tracking and Training System
Garmin Alpha Combo Double 2 Handheld & 2 TT15 Collars great for that father and son or wife and husband Dog running team.
Pick Your Own Premium Collar Strap Colors Included Free
2 Flexible Extendable Antennas Included
Optional Gizzmo Vest Add Ons Available
Garmin thought of pretty much everything when they expanded on the Garmin Astro technology and merged it with the Tri-Tronics Trashbreaker series to combine into one awesome dog GPS tracking and training system.  The Garmin Alpha has a larger built in memory of 8 GB; however 3.5GB are being consumed by the 100K TOPO map that is built into the Garmin Alpha handheld.  There is still a MicroSD memory card slot so you add additional memory to hold information such as your FREE 1 YEAR Birdseye That is PRE-DOWNLOADED! satellite imagery.
Included in your bundle is a standard black and grey Garmin Field Bag however you have the option of one of our camo or bright colored collar bags. We suggest if you purchase more than 10 collars that you upgrade to our medium collar bags.
Garmin Alpha 100 Combo Handheld GPS Features
Garmin Alpha is Touch Screen
3 Button Training Controls (Vibration, Tone and Correction) across the top of the Garmin Alpha Handheld
New Dog Setup Menu including update rates (TT15 collar update speed to handheld)
Rescue Mode – Change TT15 update rate from 2.5 secs to 2 minutes to prolong battery life
All In One Screen – get dog state (moving, treed, sitting) distance from handheld, distance traveled, speed, update rate, tracking line color
Track up to 20 devices (track both TT15 collars and other Garmin Alpha handhelds-a combination of 20 total devices)
Garmin Alpha Lithium Ion Battery (no more AA batteries like the Garmin Astro) – up to 20 hours of battery life
GeoFence & Radius Alerts – you can set up an invisible fence around an area and receive an alert when a dog enters and exits that area.
Dog Trails with 3 view available: Complete History, Partial History, or No Trail History
Map Screen Options: Distance, Names, Show/Hide Dog Status, Offscreen Dogs
Wireless sharing of GPS dog tracking system info from Garmin Alpha handheld to other Garmin Alpha handheld units
Garmin Alpha is Birdseye Satellite Imagery Capable – 1 Year Subscription Included Free
9 Mile line of Sight GPS tracking (so says Garmin)
Garmin Alpha Handheld is Waterproof – but does not float
4000 Waypoints/Favorites/Locations
200 Routes
Track Log of 10,000 point with 200 saved tracks
Tide Table and Hunt/Fish Calendar
Barometric Altimeter
Emergency Alert – you can send your location with an emergency alert to other Alpha users within the area
VIRB Camera Control – Dog collar can start or stop the VIRB recording based on user command from Garmin Alpha 100 Combo handheld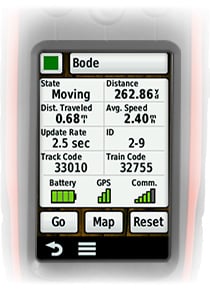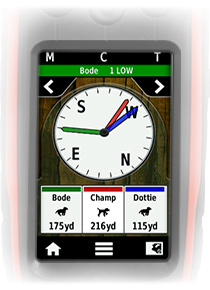 TT15 Garmin Alpha E-Collar (Tracking and Training Collar) Features
Garmin TT15s collars are Waterproof with a top mounted high sensitivity GPS locator located on the back side of the dog's neck instead of underneath like the previous DC40 design
NEW Braided 22.5inch Steel Collar VHF Antenna (18.5″ standard range included in box) – thinner but tougher material than the DC30 and DC40 Antenna material
LED Lights- Visible for 100s of yards becomes a beacon in the night and adds an element of safety at night.  3 settings LED light settings – Continuous, Blink Slow, Blink Fast
18 Levels of Continuous/momentary Stimulation
Vibration Training Option
Audio Tone
Customize the correction level for each dog separately
Collar links to the computer for simple software updates and for exporting GPS dog tracking system data
Collar strap is changeable and Outdoor Dog Supply offers 30 different colors to choose.  NOTE: Small dogs 11-13″ neck must select NO ring option.
Rechargeable Li-ion battery with a 24-48 hour sustainability depending on update rate (rates are approximate): 
2.5 second update = 24 hours
5 second update = 38 hours
10 second update = 48 hours
30 second update = 52 hours
2 minute update = 56 hours
Charging Clip (Red Light= charging – Green Light = fully charged)
Splitter Cables Available (1 comes with initial Garmin Alpha 100 combo purchase) so you can charge 2 items (1 Garmin Alpha 100 handheld and TT15 collar OR 2 Garmin Alpha TT15 collars OR 2 Garmin Alpha 100 combo Handhelds at one time)
Garmin Alpha Handheld Specs:
Weight: 0.55 lbs.
Width: 2.4 inches
Depth: 1.4 inches
Height: 9.5 inches (with short stub VHF antenna)
Height: 18 inches (with Garmin Extended Range Antenna)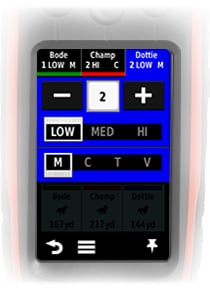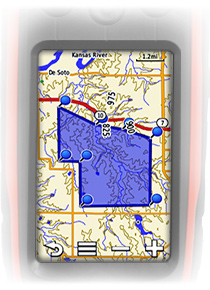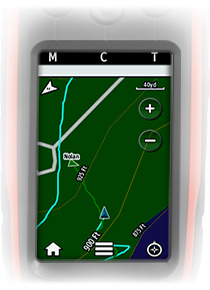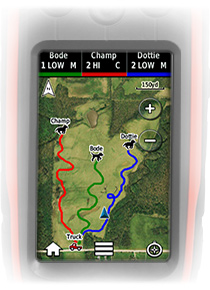 Garmin Apha 100 Combo 100K Maps include the following states: Alabama, Arkansas, Alaska, Arizona, California, Colorado, Connecticut, Delaware, Florida, Georgia, Hawaii, Idaho, Illinois, Indiana, Iowa, Louisiana, Kansas, Kentucky, Maine, Maryland, Massachusetts, Michigan, Minnesota, Mississippi, Missouri, Montana, Nebraska, Nevada, New Hampshire, New Jersey, New Mexico, New York, North Carolina, North Dakota, Ohio,Oklahoma, Oregon, Pennsylvania, Rhode Island, South Carolina, South Dakota, Tennessee, Texas, Utah, Vermont, Virginia, Washington, Wisconsin, West Virginia, Wyoming.
SaveSave
Garmin Field Bag SKU: 010-11962-10
Camo Bag Small SKU: OS-BAG-SM