This Alpha Deer Dog Special is perfect for any long range hound hunter. Along with your Alpha kit we have also included a truck mount whip of your choosing, or our premium model for just a small extra fee. It also includes a Flexible Extendable Antenna which collapses to 6″ and extends to 24″ (Upgradable to our ODS super extendable foldable antenna) We added the quick connect kit which makes changing antennas in and out of your truck a breeze. Included is Outdoor Dog Supply's quick release lanyard, which keeps your Alpha safely around your neck when you are in the woods. The Alpha already comes with a TOPO map but you also get BirdsEye with this package as well as a 4g SD Card. We also added Alpha Screen Protectors to keep your Alpha scratch free. The BirdsEye is satellite imagery which allows you to zoom in to see which side of a hedgerow or creek your dog is on, where in a field, or even if they are on somebody's back porch.  Covered by our warranty!
***Please note this bundle does not include the TT15 Collar or accessories for the collar***
Alpha Handheld:
With Alpha 100 and TT™ 15, pinpoint up to 20 dogs or hunters' exact positions on a large, glove-friendly touchscreen display even when they are out of sight. Because Alpha 100 comes preloaded with 100K U.S. TOPO maps, you'll always know your surroundings.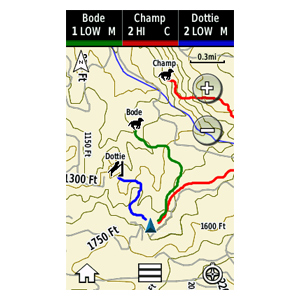 Track Your Dogs
Measure each dog's speed, distance and the direction being traveled. Plus, receive notifications when a dog is "Treed" or "On Point." A single Alpha 100 can track up to 20 dogs or fellow hunters when using either additional Alpha 100 handhelds or TT 15 devices (each sold separately, not compatible with Astro®).
Train and Control
Alpha 100 helps you train and control your dogs to stop chasing unwanted game or "recall" to your position. Easy to access training buttons allow you to communicate separately to each dog through safe and effective features, including 18 levels of momentary and 18 levels of continuous stimulation or an audible tone command. Plus, a lockout setting is available to avoid accidental stimulation or tone.
Two modes of level progression let you customize your training even further. Traditional stimulation allows you to make quick changes within a predetermined stimulation level (low, medium or high), whereas linear stimulation allows progressively more stimulation through all 18 levels available.
 Extend Your Battery
When using the TT 15, switch to Rescue Mode to prolong the battery life. When the TT 15 reaches a certain battery level, it will slow down the update rate at which it pings Alpha 100 from every 2.5 seconds to every 2 minutes. This mode should provide additional battery life to the TT 15, giving you more time to search for and locate your dog.
Turn Your Computer Into a Base Station for Tracking Dogs
The all-new BaseStation lets you turn your laptop (loaded with BaseCamp) into a field control center for tracking multiple dogs and/or buddies (up to 20 Alpha units or TT 15 collars). View real-time GPS information on the larger display of your computer, making it ideal for canine search and rescue teams. And because it's GPS-based, you'll get safer, more effective tracking, even where Internet and cell phone service isn't available.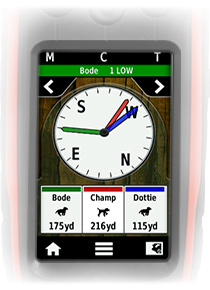 Track and Train 20 Dogs
From the compass screen, get in-depth speed, direction traveling and distance away information for any dogs you've selected. And correct any dog on this screen without falsely correcting the others.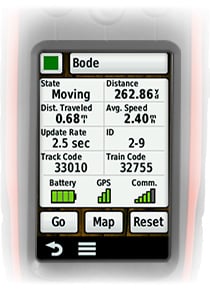 At-a-Glance Dog Stats
Get the information you always need, like your dog's state (moving or on-point/treed), distance from the Alpha device, total distance traveled, speed and update rate, all on 1 screen.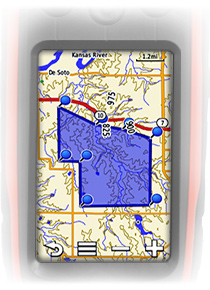 Keep 'em Away From Hazard
Don't wait till your dog is lost or in danger to get him back. Setup virtual boundaries on your map and receive an alert if he strays out of your geofence so you can recall him right away.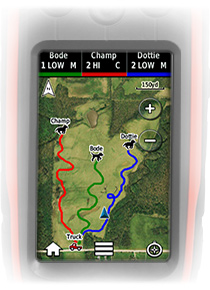 Track and Train Your Dogs
Track and train your dogs based on where they are with 
BirdsEye Satellite Imagery
. These highly-detailed raster maps provide a realistic bird's eye view of roads, parking areas, buildings, and terrain, including tree lines, lakes, rivers and streams. They are a great way to supplement the comprehensive topographic maps on your Alpha.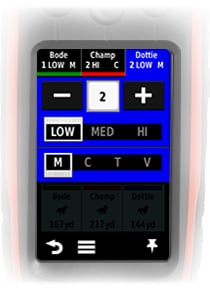 Keep Your Dogs on Track
From the training screen, correct and recall multiple dogs (with extra TT 15 devices) with the help of Tri-Tronics electronic training. Select traditional or linear progression plus tone or stimulation types.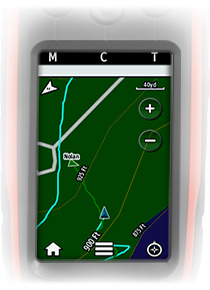 Keep Up with Your Buddies
Know where other hunters in your group are. Set your Alpha to show not only the dogs in your group, but also the other Alpha handhelds too (Up to 20 TT 15, T5 or Alpha units. Not compatible with Astro).
Sometimes product can be referred to as:  garmin alpha tracking and training, garmin alpha, garmin alpha 100, garmin alpha dog tracking, garmin alpha 100 combo, gamrin alpha bundle, garmin alpha combo, garmin alpha 100 bundle, garmin alpha combo, tritronics tracking system, garmin tritronics tracking system, garmin tracking and training system for dogs, garmin alpha gps tracking and shock system, garmin alpha gps dog tracking system,
Garmin Alpha 100 100K Maps include the following states: Alabama, Arkansas, Alaska, Arizona, California, Colorado, Connecticut, Delaware, Florida, Georgia, Hawaii, Idaho, Illonois, Indiana, Iowa, Louisiana, Kansas, Kentucky, Maine, Maryland, Massachusetts, Michigan, Minnesota, Mississippi, Missouri, Montana, Nebraska, Nevada, New Hampshire, New Jersey, New Mexico, New York, North Carolina, North Dakota, Ohio,Oklahoma, Oregon, Pennsylvania, Rhode Island, South Carolina, South Dakota, Tennessee, Texas, Utah, Vermont, Virginia, Washington, Wisconsin, West Virginia, Wyoming.
Alpha 100 Handheld SKU: 010-01041-20
Screen Protectors SKU: 010-11828-05
8 GB SD Card SKU: OS-8GBSD
18″ Mag Mount SKU: OS-18-4.7-BNC
Truck Hood Mount with Tram 48″ Spring Antenna SKU: OS-1150S-HOOD-BNC
Bracket Truck Mount Antenna & Tram Whip Special SKU: OS-1150-BRACKET-BNC
Long Whip & ODS 4.7″ Base Mag Mount SKU: OS-1150-4.7-BNC
Long Spring Whip & ODS 5.9″ Base Mag Mount SKU: OS-1150S-5.9-BNC
ODS Super Extendable Foldable SKU: OS-SUPER-BNC
ODS Flexible Extendable SKU: OS-FLEX-ORG-BNC; OS-FLEX-BLK-BNC
3 Piece Quick Connect SKU: OS-QCK-3PC