Garmin Alpha 100 Handheld, Gizzmo Protective Case, Screen Protector Set
Get your Alpha Handheld with a protective GizzMo case to keep it looking and working like new. The GizzMo case is a heavy dude rubber case that protects your handheld from dirt, bumps and drops. The screen protector goes directly on your Alpha's touch screen to protect it from scratches, dust and wear.
Includes: Garmin Alpha Handheld, GizzMo Case for Garmin Alpha, Garmin Alpha 3 Pack of Screen Protectors, Garmin Alpha Belt Clip, Garmin Alpha Home, Garmin Alpha Vehicle Charger, Garmin Splitter Cable, Garmin USB Cable, Outdoor Dog Supply Lanyard, Garmin Alpha Lithium-Ion Battery, Garmin Short Stub VHF Antenna, Garmin Extended Range Antenna, and your choice of either the Garmin Field Bag or the Garmin Rigid Case
Covered by our warranty!
Track and Train up to 20 Dogs.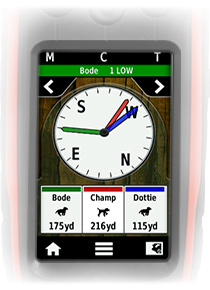 From the Compass Screen, you can get a quick over view of your dogs information on any of the dogs you have selected including: distance from your handheld device, current status (moving, treed, pointing), direction they are traveling, and you can also tone or correct any dog on this screen without falsely toning or correcting the others.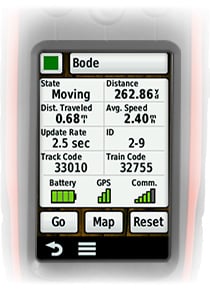 At-A-Glance Dog Stats. You can get in-depth information on any of the dogs you have selected including: average speed, direction traveling, current status (moving, treed, etc), distance away from you currently, update rate (how often the collar is sending location and information feedback).Get the information you always need, like your dog's state (moving or on-point/treed), distance from the Alpha device, total distance traveled, speed and update rate, all on 1 screen.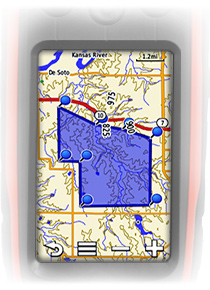 Set Imaginary Boundaries. You can set up Geo-Fences which are virtual boundaries on your map. Your Garmin Alpha handheld will alert you if one of your dogs goes out of your geofence boundaries.  This is great layer of added protection, especially if you are hunting near major highways or busy roads.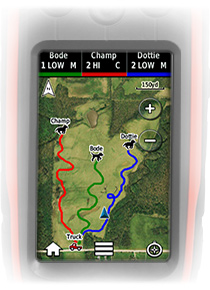 Track and Train Your Dogs. Track and train your dogs based on where they are with BirdsEye Satellite Imagery.Birdseye Imagery is a highly-detailed area view (just like if a bird was looking down, or if you have ever used Google Earth, its pretty much the same) maps provide a realistic bird's eye view of roads, parking areas, buildings, and terrain, including tree lines, lakes, rivers and streams. They are a great way to supplement the comprehensive topographic maps on your Garmin Alpha.  This is great especially for deer, hog, coyote hunters because you will know if they are coming out of the woods into a field, or going into a cutover, and similar scenarios.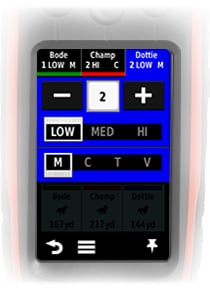 Training with the Garmin Alpha. From the training screen, warn, correct and recall multiple dogs (with extra Garmin Alpha TT 15 devices) with the help of the built in Tri-Tronics electronic training (basically built in Tri-Tronics Trashbreaker technology). Select traditional or linear progression plus tone or stimulation types.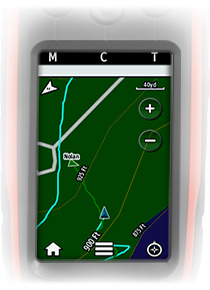 Keep Up With Your Buddies. Have other buddies with Garmin Alpha systems?  Link them together and know where other hunters in your group are. Set your Garmin Alpha to show not only the dogs in your group, but also the other Alpha handhelds too (Up to 20 TT 15 or Alpha units. Not compatible with Astro).  This is a great feature because you can work together not only for hunting purposes, but also to keep track of the dogs and to be able to cut off chases.  In addition, it is always nice to have a buddy to help round up dogs at the end of a long hunting day.
Alpha 100 Handheld SKU: 010-01041-20
Rigid Case SKU: 010-12042-00-USED
Garmin Field Bag SKU: 010-11962-10
Screen Protectors SKU: 010-11828-05
8 GB SD Card SKU: OS-8GBSD
Gizzmo SKU: OS-GIZZ100